Tuscany - A Leader in custom lifted truck manufacturing


Recon by Tuscany Sport Trucks
All of our trucks are military themed and with a truck purchase we donate $500.00 to the Lone Survivor Program. We care tremendously for our veterans.
All of our trucks are military themed and with a truck purchase we donate $500.00 to the Lone Survivor Program. We care tremendously for our veterans.
Built on a SLE Bucket Chassis with a 6 inch Stage 2 Pro Comp Lift. Pro Comp is the best lift in the country. The proved themselves to be most viable with their million dollar roll over test to General Motors.Built on a SLE Bucket Chassis with a 6 inch Stage 2 Pro Comp Lift. Pro Comp is the best lift in the country. The proved themselves to be most viable with their million dollar roll over test to General Motors.

Custom Tuned Stainless Steel Exhaust and Powder Tips
Wayne Davis owner of Tuscany Sport Trucks actually was blind folded with executives of Pro Comp and fine tuned the exhaust till it was perfect. Turn that engine on! Beautiful roar on the outside and nice and quiet on the inside. Great for commuters. Also, 5lb, double powder coated tips to avoid rust.
Pro Comp Lift and Heavy Duty Shocks
They provide a smooth, comfortable ride, while responding to a multitude of driving conditions. Pro Comp Stage II suspension lift kits help you to get the right height, clearance, and attitude on your truck and maintain that "factory" ride quality, while improving handling. Pro Comp suspensions use world-class manufacturing processes and stringent quality control measures to deliver only the best possible products to their customers. This results in performance and reliability, no matter what obstacles are in your path. Big ticket items such as cast and CNC-machined knuckles and lasercut, CNC-formed, robotically welded cross members are the foundation for many of these suspension kits, but little details such as brake line extensions, longer bump stops, and sway bar drop brackets are always included to provide the most complete suspension systems on the market. These details distinguish Pro Comp from their competitors and are critical for proper steering geometry and suspension performance. Detailed step-by-step illustrated instructions are included with every suspension kit to make installation as straightforward as possible.
Pro Comp engineers use the latest scanning equipment and computer-aided design (CAD/CAM) technology to ensure that every component is able to withstand the forces it is expected to be subjected to in real-world off-road applications. These models are then brought to life through cutting edge manufacturing processes, innovative fabrication and assembly techniques, and the best materials
Skilled engineers, who are also enthusiasts, design Pro Comp suspensions to maximize ground clearance, improve suspension articulation, and ride quality while maintaining OE standards for product quality, occupant safety and comfort. Thousands of hours of testing and refinement go into each product to ensure that it is optimized for use on the street and the trail with design emphasis on ensuring total end user satisfaction. Pro Comp gives a life time warranty unlike its competitors, they are so confident in their engineers and product as we are here at Tuscany Sport Trucks. 20 inch PVD (Physical Vapor Deposition) Black wheels that we own the mold, spec and manufacturing on a hub centric wheel not a lug centric.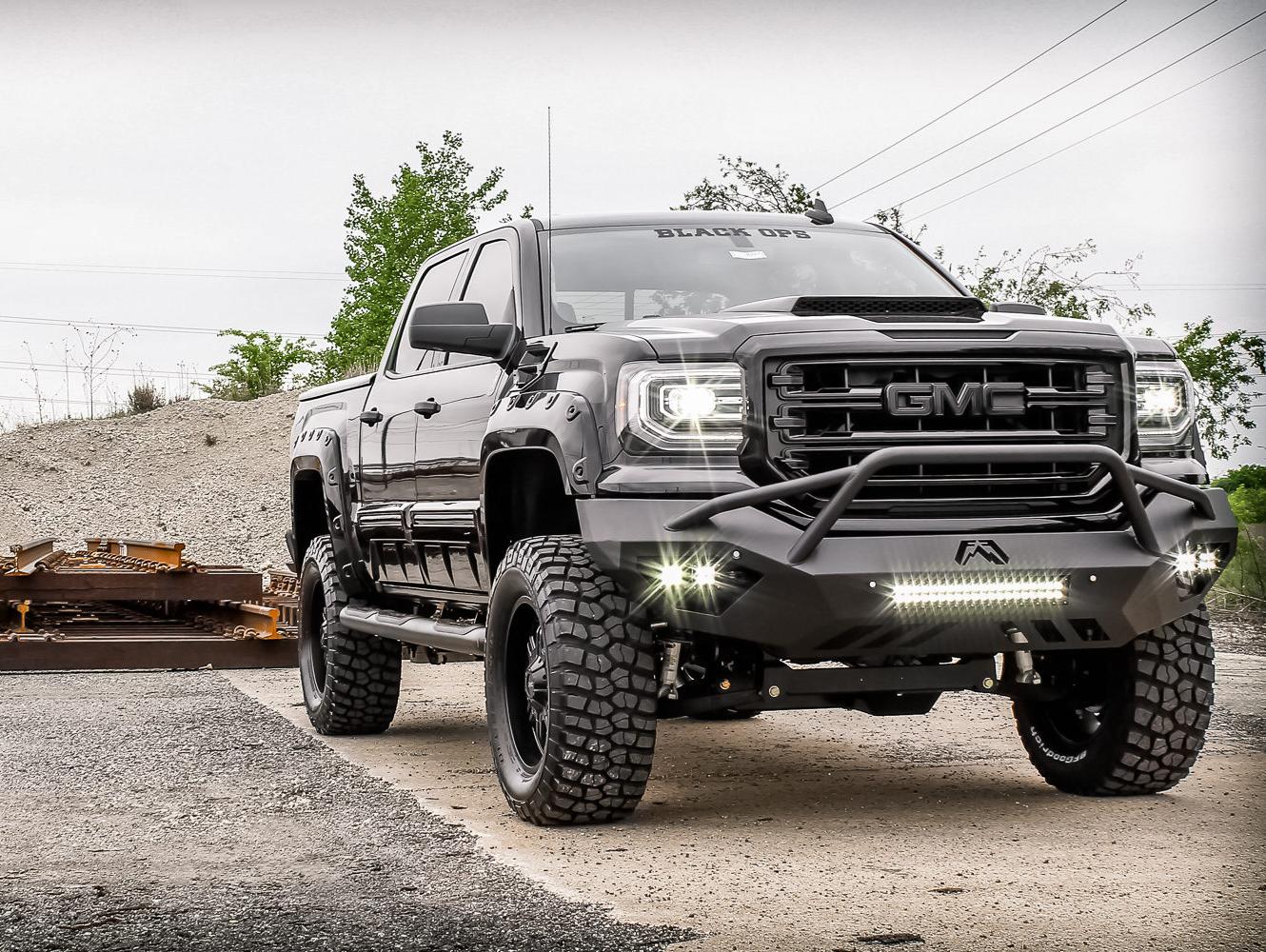 Hubcentric vs Lugcentric
Hub centric design supports and centers the wheel better, resists impact loads from being used on typical roads. Where other Vendors will a use lug-centric design which are less costly and not good fro the over all longevity of the frame and truck. It should be noted that hub-centric and lug-centric wheels are distinct designs with different stress levels at different locations. Substituting a lug-centric wheel in place of a hub-centric wheel can decrease reliability, especially in high wheel-loading and impact- loading environments.
A problem arises when using a lug-centric wheel on a vehicle and suspension that was originally a hub-centric design. Without the hub?s support, road impacts can deform lugs enough to where the wheel is no longer concentric with the hub, leading to vibrations. This can reduce the clamping force of the wheel to the hub. Road loading conditions can then move the wheel around on the hub, as can be seen by the worn holes in the image below of a lug-centric wheel used on a hub-centric vehicle.
Tires
The Recon has 35" BFG KO2 All Terrain Tires. Wayne Davis is the largest distributor of Goodrich tires. They are not loud like a mud tire. This type of tire is also great due to the fact if the buyer gets a flat anywhere in the country, will easily be replaced. Tires like Mickey Thompson typically are not in stock everywhere and the consumer may wait up to two weeks to be replaced. is an On-/Off-Road AllTerrain light truck tire developed to meet the needs of jeep, pickup truck and sport utility vehicle drivers who want confidence and control on- and off- road. The All-Terrain KO2 was designed to deliver go-anywhere traction along with outstanding durability, great wear and year-round traction, even in snow.All-Terrain KO2 tires feature a racing derived cut-, chip- and tear-resistant tread compound that delivers longer life (up to 2 times the previous generation tire's treadwear on gravel roads). The compound is molded into an aggressive, computer optimized, high-void all-terrain pattern with interlocking tread blocks and multiple loose object ejection features to combine off-road durability and traction with on-road handling and acceptable noise.Upper shoulder Sidewall Armor features a tougher sidewall rubber compound that's twice as thick as its predecessor and a Serrated Shoulder Design that delivers additional traction by providing the clawing action necessary to develop traction and steering control in deep dirt, sand or on rock during "aired down" offroad driving.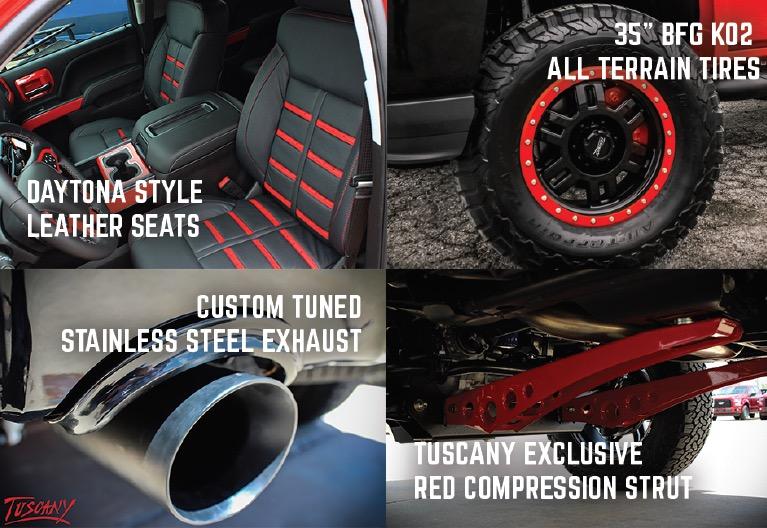 The tire's internal structure includes twin steel belts reinforced with spirally wrapped nylon on top of BFGoodrich's TriGard, 3-ply polyester cord sidewall ply construction (2 plies for Load Range C tires) for strength and durability.Single strand beads (a single strand of bead wire is continuously wrapped multiple times until the desired strength is provided) enhance the tire's fit to the wheel to improve uniformity and ride quality.
Red Brake Caliper Covers
Not only aesthetically pops on the truck and is different is also keep rocks from getting into the brakes and rotors.
Red Compression Strut/Lateral Stability Bar
Another great part, different from anything on the market. This is exclusive to Tuscany, we own the mold and manufacturing. This was a product of the million dollar roll over test mentioned above. When you put larger tires on a truck like this, when the customer is in 4 wheel drive or stuck in mud too much torque it prevents the drive shaft from failing. It is also an anti-roll bar.
Speedometer Calibrator & Tire Sensor Recalibration
If you've installed tires that are larger or smaller than original equipment tires, or if you have installed a ring and pinion gear set with a different rear gear ratio, the Speedometer Calibrator allows you to re-program for correct speedometer and odometer readings, as well as correct part-throttle shifting. The vehicle?s computer calculates your vehicle's speed based on the diameter of the stock tires. If you've installed taller or shorter tires, or changed the rear gear ratio, the vehicle's computer doesn't know how fast your vehicle is going. As a result, the automatic transmission may not shift correctly and the speedometer readings will not be accurate.
Color Keyed Pocket Fender Flares and Black Bolts
We use 3M tape behind our flares same as they use for wings on a plane. We bolt from behind, not to mention our bolts are black powder coated stainless steel. They will not rust. We are the only ones in the market doing this.
Active Air Hood Scoop
This is a real Active Air Hood Scoop, no sensors. Air goes through the hood scoop into the engine. Hood scoop is custom and is air chiseled into hood. Advisable, to pop hood open to show buyer the precise finish.
Black Billet Aluminum Grille
A solid powder coated custom grill, will not rust. And not a $100.00 overlay. Bow Ties and Badging A 3-6 hour process, each GMC emblem is scrubbed down and painted 3 times matching OEM color.
3-Step Black Wheel to Wheel Nerf Bar
Who wants a 2-step when you can have a 3 step? Easy access into back bed from side of truck.
Blacked out:
Mirror caps, handles,window trim and bolts and Recon Tactical Graphic also custom to Tuscany.
Daytona Leather Seating
This is our custom one piece leather. This is not catskin. This is the same leather used in Ferrari will not fade, gives a quality finish that Tuscany is known for.
Rear Bumper Trim Kit
Fit and Finish like no other and nobody does it like us. Cut to perfectly tuck the dual exhaust into the back of bumper. *We mirror factory warranty 3year/36,000 mile 5 year/60,000 power train
Order your New Custom Truck today! Any questions or to place your order just give Sullivans Northwest Hills a Call today (860) 866-4055