Choose From the Wide Selection of Chevrolet SUV's at Northwest Hills Chevrolet Buick GMC
Full Sized Chevrolet SUVs
It's refreshing to see that in today's crossover-dominated world there's still plenty demand for good old-fashioned full-sized SUVs. In the land of the pick-up truck giant car still draw a big audience, so car manufacturers keep them in their current offer. Chevrolet, the legendary American brand, has two of the best full-sized SUVs out there today, in the form of the Suburban and the Tahoe. Either of these two Hercules on wheels can hold their own in almost any situation, apart from a drag-race. Other than that, be it gravel or smooth asphalt under them, they'll get the job done, get 8 to 9-man crews where they need to be and haul in excess of 8000 pounds while doing it.
The Chevrolet Suburban
The Suburban is the longest continuous use automobile nameplate in production, starting in 1935. That's a few years short of a century on the market. The latest rendition of the model pays homage to its rough, rugged past and welcomes all the modern comforts and safety tech the 21st century has to offer.
The outside of
the Chevrolet Suburban has a robust, yet clean and good-looking design
, making this crossover antagonist a fair earner of the "old-school cool" tag. The exterior design is also quite telling of the power underneath the hood where a base 5.3-liter V8 engine can be found. It produces an impressive 355 horsepower and 383 pound-feet of torque, and coupled with a superb 6-speed automatic will let very few, if any, things stay in its way. An upgrade is also available, a 6.2-liter V8 that will put out 420 horsepower and 460 pound-feet of torque. It comes with a 10-speed automatic and the ability to tow upwards of 8300 pounds with a fully loaded cabin that can transport as many as 9 passengers at once. If that won't get the job done, I don't know what will.
Speaking of passengers, you can expect to carry 8 if you opt for bucket-seats up front and 9 if you ask for the bench instead. Either way, there's more than enough room for people to sit comfortably inside, even on the third row. The use of soft materials and the sporadic French stitching make the Suburban feel like a car, not a truck and there's ample room for storage with 122 cubic feet available behind the first row of seats, provided the back two are folded down.
The LS trim comes on all base models and it includes an 8.0-inch touchscreen, Android Auto, Apple CarPlay, 3-zone climate control, and power-adjustable front seats. A step up the trim levels and you'll get the LT package that will add leather seats, a BOSE sound system, power liftgate, and the Enhanced Driver Alert package that includes active safety tech like assisted lane keep and automatic low-speed emergency braking.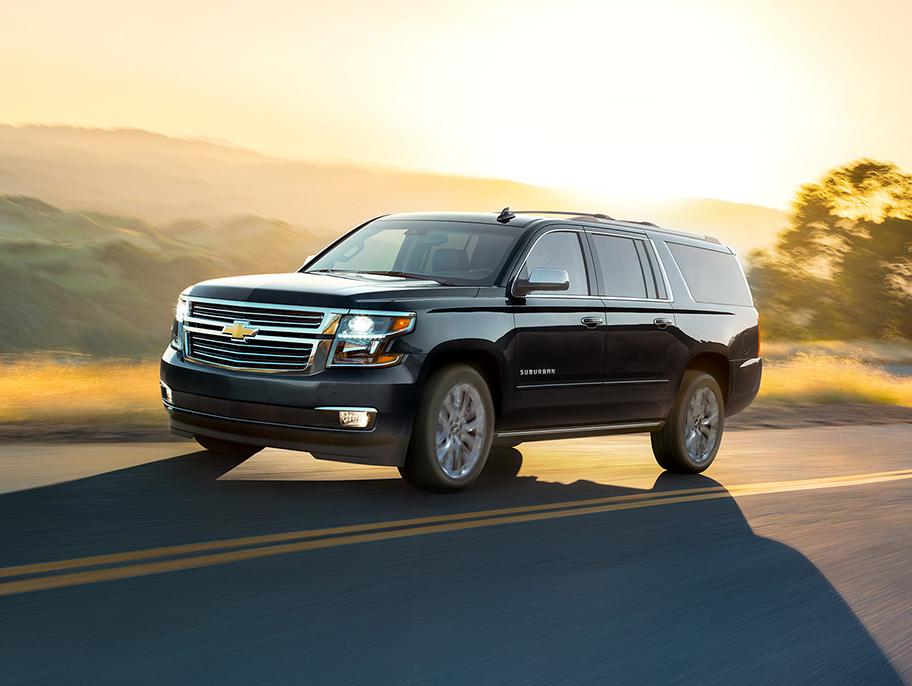 The Chevrolet Tahoe
The other half of Chevrolet's full-sized SUV squad is the Tahoe
, one of the most capable SUVs on the market today. A true workhorse, packed with modern comforts, this rugged beast wears its power with pride.
There are no fancy design lines as a conservatory exterior seems to better encompass Tahoe's spirit. Clean, sharp lines give the truck platform a nice overall shape. The incredibly powerful powertrain makes the Tahoe able to handle off-road trips with ease and tow upwards of 8600 pounds when needed. The great suspension and craftsmanship found in this model make a suitable car on the paved road as well. A 5.3-liter V8 powers this beast, one that will produce 355 horsepower and 383 pound-feet of torque.
This year Tahoe is the last set of vehicles Chevrolet will produce from this generation as a brand new one will be introduced early next year. That's great news for any buyer out there since it's well known that cars produced last are the best ones since all the bugs would have already been fixed by then.
The interior is laced with high-tech features like an 8.0-inch touchscreen, Apple CarPlay, Android Auto, dual-zone automatic climate control, Bluetooth phone and audio support, and five USB ports throughout the vehicle.
We warmly recommend both vehicles to anyone looking for unapologetic power, the kind that gets things done. Here at Northwest Hills Chevrolet in Torrington we have the cars in all trim levels in our showroom and we'd love to help you pick the right version to meet your needs. We can also arrange for test drives, all you have to do is pay us a visit, we'll take care of the rest.